News
Art4Me
Art4Me's importance as a creative space on the West Coast can be summed up in the Māori whakatauki (proverb) "He tangata, he tangata, he tangata", It is the people, it is the people, it is the people, Art4Me tutor Kate Buckley says.
"I think the part of the programme I enjoy most is when artists begin to see their own learning. It brings such a surge in confidence and that confidence spills out to other areas of their lives," she says.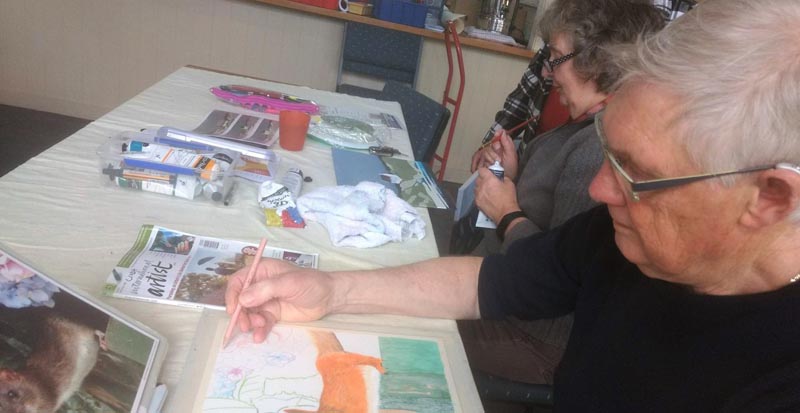 Kate wants people who come to Art4Me to feel comfortable there. "It's a safe place to come and work creatively. The doors are open, we are there to provide space, materials and creative opportunity, and it's an extraordinary pleasure to meet and work with the most amazing people in our communities."
Kate says she started off teaching a series of skills-based Saturday morning art workshops. "Perspective drawing one week, colour theory the next – all very 'eat your vegetables if you know what's good for you'. I got about halfway through teaching these sessions and thought, 'What am I doing? I never work like this. Stop!'
"I went back to the course organisers and we began to talk about an art programme that fosters creative growth and visual learning. Art4Me started as a trial programme five years ago and we haven't looked back. We now work with about 70 artists."
WestREAP support
Kate appreciates how supportive umbrella organisation WestREAP was when New Zealand went into Level 4 lockdown in March this year, and Art4Me had to respond quickly and cancel programmes at short notice. "That support made everything possible."
The main challenge Art4Me faced during lockdown was lack of access to internet coverage, devices and IT skills, making it hard to stay in touch. But once again, Kate says, WestREAP supported community needs.
"As soon as we were 'unlocked', WestREAP invested in technology and a computer support tutor for the Art4Me group.
"A significant number of our artists have taken the opportunity to engage with this learning. And I think this is one of the great assets of programmes like ours. Success in one area of learning gives us the space to take on new learning challenges in other areas."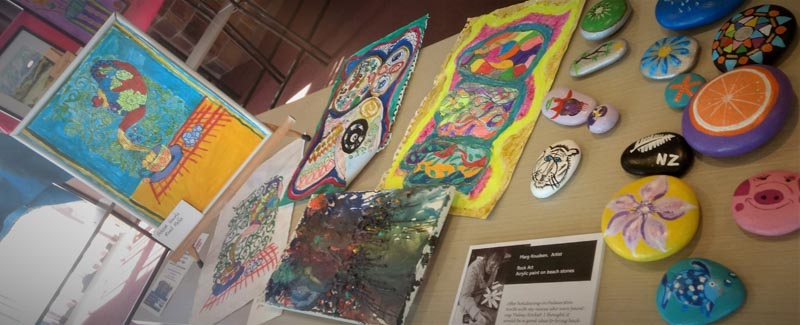 Lockdown also presented opportunities. Kate says relationships and creativity are key to Art4Me and during lockdown, she cultivated both of those things in a variety of ways.
"We developed a weekly Art4Me newsletter, put up a website, and had regular Zoom sessions with groups," she says. "Artists sent images and we'd arrange a time for a phone call to talk about their projects, which worked really well. People just helped each other out. We organised safe material drops and newsletter deliveries. In many ways, lockdown brought the groups closer together.
"It was extraordinary to see the work people did during lockdown and because we'd all been in touch, everything continued and got back up and running again really quickly when we went to Level 2."
Importance of Art4Me
Kate says post-lockdown evaluations showed how important Art4Me's work is.
"Our evaluations after lockdown were really heartening. Artists really valued being in touch with each other by phone, newsletter and Zoom. In a way, lockdown showed us all how important the programme is at keeping people connected and creative.
One example of this came from an artist called Jill, who said: "Living alone, I need to socialise with other people. The group is non-judgemental and so encouraging. It was heaps of help during lockdown: the connectedness was wonderful."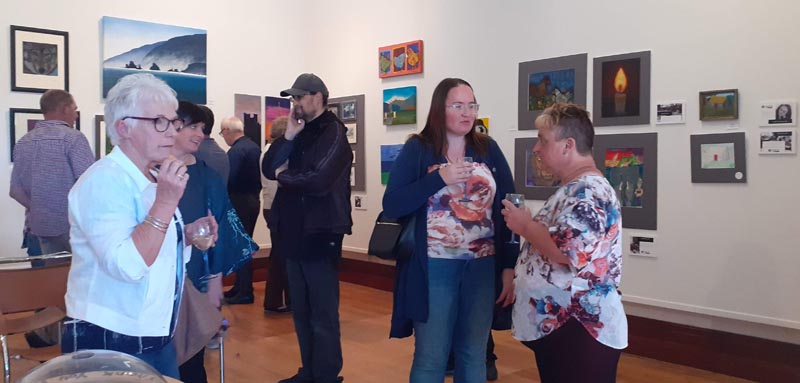 Now that lockdown is over, Art4Me is working towards an end-of-year exhibition at Greymouth's Left Bank Art Gallery. "This is a professional exhibition space and a significant opportunity for us."
Art4Me operates in Greymouth and Hokitika, but Kate wants to expand into other isolated communities on the coast.
"We recently received support from the Working Together More Fund to develop a network of creative spaces on the Coast. Distance, communication and networking are big challenges that need to be turned into opportunities. We now have an opportunity to develop a network of groups and practitioners and to nut out ways we can support each other and grow together.
"It also keeps us connected nationally. Connection is yeast to our bread, and I can't wait to see what will rise."